Carole A. Feuerman
ArtMONACO'13 (25.04.2013 - 28.04.2013)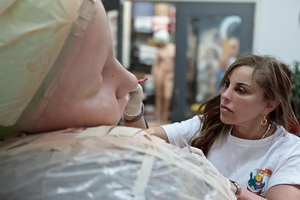 "All of my life, making art has been my passion. As I have experienced life, the forms that my works have
taken have evolved and deepened, and my love for creating has endured."
Carole A. Feuerman is acknowledged as one of the world's most prominent hyperrealist sculptors. Her prolific career spans four decades. Working in resin, marble and bronze, Feuerman sculpts life-size, monumental and miniature works. She has had six museum retrospectives to date and has been included in prominent exhibitions at The State Hermitage, The Palazzo Strozzi Foundation, the Kuntsmuseum Ahlen and the Circulo de Bellas Artes. Among the notable honors she has received are the Amelia Peabody Award, the Betty Parsons Award, the Lorenzo de Medici Prize, and first prizes at the 2008 Beijing Biennale, the Beijing Olympics and the Austrian Biennale. Her work is in the selected collections of His Majesty the Emperor of Japan, President Bill Clinton and Secretary of State Hillary Clinton, Henry Kissinger, Mikhail Gorbachev, the Forbes Magazine Collection, the Caldic Collection, and Credit Swiss Collection. Selected public collections include Grounds for Sculpture, the El Paso Museum of Art, the Boca Raton Museum of Art, the Bass Museum, Vin & Sprithistoriska Museet and Art-st-Urban. She has taught, lectured and given workshops at The Metropolitan Museum of Art, the Solomon Guggenheim Museum and Columbia University. There are currently three full-color monographs about her work: Carole A. Feuerman: Sculpture, written by Eleanor Munro and published by Hudson Hills Press, now in its second edition, and Carole A. Feuerman: La Scultura Incontra la Realta, by Gabriele Caioni, which is available in both English and Italian. Her monumental sculpture Grande Catalina is featured in A History of Western Art by Antony Mason and John T. Spike and published by Abrams Books in twelve languages.
Feuerman had her first museum retrospective at the Queens Museum in 1987, followed by her second retrospective at the Southern Alleghenies Museum of Art in 2000. In 2004, her sculpture Sunburn was featured in the highly acclaimed traveling group exhibition "An American Odyssey, 1945/1980: Debating Modernism", curated by Stephen C. Foster, at the Circulo de Bellas Artes in Madrid, Spain. The same year Feuerman's had her third retrospective "Resin to Bronze Topographies" at the City University of New York. In 2007, she had a solo show entitled "By the Sea" curated by John Spike, showcasing her monumental sculptures, Survival of Serena and Grande Catalina, at the Venice Biennale. Simultaniously, she exhibited in OPEN 2007, an international sculpture exhibition in Venice, as well as a one-person show entitled "Lust and Desires" at Art-St-Urban in Lucerne, Switzerland. Following these successes, she exhibited in Florence's Moretti Gallery and was the featured artist in "46 XX", at Moscow's Na Solyanke State Gallery in Red Square. Her next retrospective, held in 2008, was at the Archeological Museum in Fiesole, Italy, followed by inclusion in "Art and Illusion: Masterpieces of Trompe-l'oeil from Antiquity to the Present" at the Palazzo Strozzi Foundation. The year closed with her fifth retrospective "Silence-Passion-Expression" at the Amarillo Musuem of Art in Texas, which was nominated by the AISEI for the best Monographic Exhibition. In 2010, Feuerman's sculpture Monumental Shower was exhibited in "Intimacy, Bathing in Art" at the Kunstmuseum Ahlen in Germany alongside works by ninety artists including Edgar Degas, Louise Bourgeois, David Hockney and Joseph Beuys. During the fall of 2010, Feuerman had her sixth retrospective, entitled "Earth Water Air Fire", at the El Paso Museum of Art, which showcased fifty-two works and premiered her video installations. Following the close of the exhibition, her sculpture Summer was purchased for the museum's permanent collection. 2011 began with three solo exhibitions; the first at the Elaine Baker Gallery in Boca Raton, Florida, followed by Galerie Hübner & Hübner in Frankfurt, Germany and Aria Art Gallery in Florence, Italy. In commemoration of the tenth anniversary of 9/11, Feuerman's bronze sphere New World – AM/PM was featured in "Afterwards and Forward: A ten year 9/11 reflective art exhibition" at the New Jersey City University.
Planned for 2012, New York City Department of Parks and Recreation will showcase Feuerman's Survival of Serena in hyperrealistically painted bronze at Petrosino Square in Soho during the spring and summer months. Another hyperreal bronze sculpture, Monumental Brooke with Beach Ball, will be exhibited by Hudson River Park. Solo exhibitions are scheduled in London and Greece for the summer months and at Jim Kempner Fine Art in Chelsea, New York for the fall. On an ongoing basis, Feuerman's work can be seen in all galleries representing her worldwide.
Current and Upcoming
January 18 – 22 2012
LA Art Show 2012
with Timothy Yarger Fine Art
Booth F260
Los Angeles Convention Center
West Hall A, 1201 South Figueroa Street
Los Angeles, CA 90015
310.278.4400
www.yargerfineart.com
www.laartshow.com

February 17 – 19 2012
Palm Springs Fine Art Fair
with Scott Richards Contemporary Art
Booth # 207
Palm Springs Convention Center
277 N Avenida Caballeros
Palm Springs, CA 92262
415.788.5588
www.srcart.com
www.palmspringsfineartfair.com

March 8 – 11 2012
The Armory Show 2012
with International Sculpture Center
Piers 92 and 94?
Twelfth Avenue at 55th Street
New York, NY 10019
609.689.1051
www.sculpture.org
www.thearmoryshow.com

March 8 – 11 2012
Art Karlsruhe 2012
with Galerie Hubner & Hubner
at Messe Karlsruhe
Messeallee 1
76287 Rheinstetten
Germany
49 69 72 12 81
www.galerie-huebner.de
www.art-karlsruhe.de

April 27 – 29 2012
Next Art Chicago 2012
with International Sculpture Center
at The Merchandise Mart
222 Merchandise Mart Plaza
Chicago, IL 60654
609.689.1051
www.sculpture.org
www.artchicago.com

May – August 2012
Public Art Installation
with NYC Parks & Recreation
New York, NY
www.nycgovparks.org

May – September 2012
Solo Exhibition
Rarity Gallery
20-22 Kalogera Str.
84600 Mykonos
Greece
302 289 025 761
www.rarity.gr

June – September 2012
Solo Exhibition
Louise Alexander Gallery
Promenade du Port
Via del Porto Vecchio, 1
07020 Porto Cervo
Italy
44 7732 470247
www.louise-alexander.com

Fall 2012
Solo Exhibition
Jim Kempner Fine Art
501 West 23rd Street
New York, NY 10001
212.206.6872
www.jimkempner.com

TBA
Public Art Installation
with Summit Public Arts Fund
Summit, NJ
http://arts.cityofsummit.org

TBA
Public Art Installation
with Hudson River Park
New York, NY
www.hudsonriverpark.org