Даши Намдаков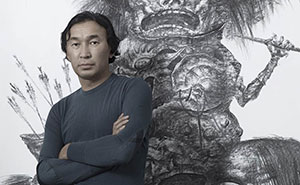 Dashi Namdakov was born in the Ukurik village of the Russian Far East in 1967 His first personal exhibition was held in 2000 in the Irkutsk Regional Art Museum and resulted in a sensation that the sculptor himself didn't expect. His work received admiration and interest of the public and specialists at first all over Russia and soon all over the world. Already during the first show in Irkutsk the exhibition was inquired to be displayed in Moscow.

Dashi's visual language has evolved and changed throughout years, at different periods showing strong academic approach, modernist pursuits, some surrealistic aesthetics and postmodernist experiments, but it has always preserved identity of motives. The artist's signature inspiration themes are relations between people, their fears, their history and heritage, the beauty of Buryat-Mongolian people, epics and myths, and the breadth and power of the great lake Baikal.

Having received recognition as a sculptor, Dashi made another important step of revealing the visual style and inner feeling of the Mongolian culture to the world in a new way by becoming artistic director of the movie "Mongol", which was later nominated for an "Oscar" Academy award as best foreign film; Dashi received "Nika" and "Golden Eagle" prizes for the artistic direction of the movie as well.

Dashi's monumental sculptures are installed in Kazan, Nur-Sultan, Tuva, London, Almetievsk, Buryatia, Kemerovo, Transbaikalian and Irkutsk regions.

During the past 19 years since Dashi's first exhibition he has held more than 80 exhibitions.

Please meet Dashi's new collection, which has become in its own way revolutionary and has already acclaimed high marks from international critics.