Cyril Cheshlushkin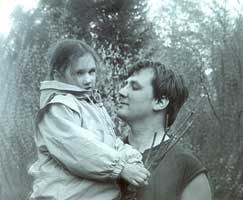 Cyril Cheshlushkin - graphic artist, illustrator,author of several unique art techniques. Works are in the collections of the State Tretyakov Gallery, the Museum of Architecture. A. Shchusev, the Cultural Foundation "Ekaterina" (Moscow), the Museum of Ludwig (Cologne, Germany), Itabashi Art Muzeum.Tokio Japan. Bolzano Art Muzeum.  Bolzano.Italy and others.

In the 1990s he began to actively exhibit with his conceptual projects. In 2000 he made a brilliant gallery career in Russia, hitting critics and collectors with huge paint panels that used classical codes to problematize contemporary cultural stereotypes. He began to actively use the video in his increasingly complicated installations with elements of figurative sculpture.

Recognition in the West allowed Chelushkin to implement a number of large-scale high-tech projects, which are now the main object of his creative efforts. The project, which actualized the figure of Chelushkin in the "field of ideas discussion", was the "Design Bureau or Documentary Design", which he specifically implemented for the exhibition tour in Russian museums in 2001.

Since 2006, gradually moved to Paris, starting to cooperate with one of the top Parisian galleries Rabouan-Moussion. His works constantly appear in major international exhibition projects, along with the works of the most famous artists of modern globalized postmodernism.

In 2010, together with Gleb Kuznetsov, he opened his own publishing house of Chelushkin Handkraft Books.

Cholushkin is sure that artists and illustrators are two fundamentally different communities. Illustrators do not have a professional environment that would set some general tasks, develop artistic goals, recognize problems and promote ideas. The questions that today's illustrator poses for modern technologies were solved in the 70s and 80s.

Illustration and art occupy different social niches. Art constantly seeks them, conquers, gnaws from life. It is ambitious, evil and hungry. Life of an illustrator in this sense is comfortable and simple. His role is known. He lives under the strong pressure of the external circumstances of the profession, and his function is certainly determined and unquestionable.

However, it must be said that this is not a homogeneous environment and there are authors who for some reason do not like this state of affairs. It can be noted that many initially book artists are struggling to work in the territory of contemporary art and present at exhibitions not a book illustration. They participate in a variety of art events, forums and international projects. Pompously expressed, the modern artist K.Chelushkin works with life itself - the material that presents him with the surrounding reality. The cause, impulse for his work in any media are the events of modern times, or the artist creates these events himself.

The method of Cholushkin's work is to work with the text as if he is a part of life, generating a great topic, requiring comprehension and comment. To the text became an excuse for experience, reflection, artistic expression and cultural game. Cyril tries to unfold the material in such a way, as if he is an external circumstance in relation to the artist and as if the artist makes an exhibition on a given topic. The only condition is the restrictions imposed by materials, format and production technology.